The 4 Kinds Of Financial Freedom
After blogging for over a year, you get to know some really interesting characters.  I mean that literally, not in the, "That guy over in the corner of the bar singing "Final Countdown" to himself is an interesting character" sort of way.  There are lots of personal finance bloggers out there that have achieved a various amount of success.  Some can live entirely off their blog.  Some (yours included) are still working on ways to monetize this bad boy so that hopefully one day this becomes my full time job.  And after reading about all these different sort of people, and all the different ways they live their life, I really started to ask myself, "What IS the definition of financial freedom?"
And as with pretty much everything else in life, it really depends.  After all, what might suffice for a couple with no kids is not going to be as great if you've got one income and 4 more mouths to feed.  So after thinking about it over my weekend coffees (which is time I use to regain my sanity from a weeks worth of teenagers) I've come up with the 4 different kinds of financial freedom that exist out in the world.
This list isn't the end all, be all, but I figure it's good for you all to realize that hitting the lottery (be it literally or in terms of income/job/side hustle/etc.) isn't the only way for you to lead the life you want to live.
So here's what I've got: The 4 kinds of financial freedom:
Level 1 – I can leave if I want.
This is what I would consider to be the first step of financial freedom.  You've put together your budget, you've got your investments running, you've got a couple little hustles you do on the side, and after all that is added up you come to a stunning realization:
You make a enough money outside your job to cover your living expenses! #youluckybastard
This is the first step of achieving real wealth, and frankly, this is a version of financial freedom.  Imagine being able to walk into work every day knowing that you don't actually need to walk into work everyday!  It must be a great feeling!
That being said, just because you make enough on the side doesn't necessarily mean that you should just up and quit your job once you hit that number.  After all, you have to be sure that you can sustain that amount of money for the long-term/forever.  And if you've just started to barely cover your monthly expenses, I can almost guarantee that you won't make that last for 20-70 years, depending on your age.
But hey, it's one hell of a start!
Level 2 – It'd be easy for me to leave.
If you find yourself at a point where you've got enough side income to cover your expenses plus 20%, I'd say that you've officially reached level 2.  Congratulations!
You've gotten to a point where it's not only possible for you to leave your day job, but you could do so with a little bit of cushion.  Of course, this does come along with a certain level of risk.  If you can cover your expenses you're doing pretty well, but you've got to keep in mind the longevity of your entrepreneurial activities.
Did you JUST start earning that kind of money, or is it something that you've been doing consistently for over a year?  Those are two VERY different situations that lend themselves to two VERY different kinds of level 2.  After all, I can't imagine anything worse then thinking your financially independent, then having to crawl back to your former employer on your hands and knees to ask for your job back.
Ick.
Level 3 – I left, and now I get to do the stuff I want to do.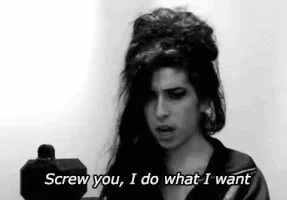 Damn, who wouldn't want to be at this level?  If you've hit level three, you not only have the possibility of leaving your job, but you've done so and are kicking ass/taking names!
I would argue that this is the level that most millennials aspire to.  People in my generation aren't inherently against work; we just want to choose what kind of work gets us out of bed in the morning.  Is that really all that bad? (cue resentful baby boomers that scream, "YES!!! IT IS THAT BAD!!!)
If you've hit level 3, then your not really worried about covering your monthly expenses; your more concerned about finding work that's going to allow you to continue living your lifestyle of 10 am wake-ups, client meetings over coffee, and gym time whenever you want.
You go, Glen Coco.  You go.
Level 4 – Heaven.  Paradise.  Your income is 95%-100% passive and you literally never have to work.
Yep.  You've won the jackpot. You've sold your unicorn startup.  You've passed go enough times to overtake your friends in what can only be described as the most hostile takeover of real estate the world has ever seen since Columbus found the rocks from which I currently blog.
Level 4, for most, is the dream.  You've earned/saved enough over the course of your lifetime that you can literally live off the interest that's generated through passive investments.  For most, this means having a substantial amount of money (click here to find out why half a million dollars really ain't all that much).  If it were me, I'd be looking at at least $2 million.  That makes about $80,000 in passive income from interest, which leaves enough cushion for inflation/unforeseen expenses.
What's interesting to note is that the kind of people that are going to hit those sorts of numbers in life are not the kinds of people that are going to stop working once they've hit a specific number.  After all, the work ethic to get to that point (at least, before 65) can really be astounding.  Do you really think that those kinds of people are just going to stop cold one day because they've gotten their millions?
I don't think so.  But then again, there are myspace Toms all over the world. 🙂
Financial Freedom – Final Thoughts
I'm fortunate to have a father that achieved what any one would describe as financial freedom at the young age of 43.  At that point, he had saved up enough from working in the military, and with his pension, he was able to retire and support a family.
But since that day, my dad has had to suffer through some of the trials and tribulations of that new found freedom.  After all, having a job gives you a damn good reason to get out of bed.  With all this money flowing in, what reason do you have not to just Netflix as much as you want?
Not that my dad isn't happy in his financial freedom; I'd say he's enjoying himself quite a bit.  But he worked quite a lot so that he would never have to again.  I'm not sure that I'll ever be the person that never wants to work again.  I'm not even sure that I really want to "retire".
So as your reading through any sort of content that has to do with financial freedom and retiring early, just bear in mind that there is a world of difference between retirement and financial freedom.
The 4 Kinds Of Financial Freedom – The Wrap Up
There's some quote out there that says, "If you're going to spend any time thinking, why not spend your time thinking big?"  I love that quote and whenever I sit down to do anything that has to do with this blog, or professionally, I always come back to that.  Financial freedom really is big thinking; the ability to do what sort of work you want, when you want, is something that everyone should be attempting to achieve.  But remember, it's not about being "financially free" or not; it's all about where you land on the scale.  Again, that scale is:
I can leave if I want
It would be easy for me to leave
I left and now I get to do the stuff I want to do
My income is 95%-100% passive.  I'm officially a boss.
Are there some kinds of financial freedom that I'm missing out on?  Is there a level 5 that I should be made aware of? What's the single biggest step you take to becoming financially free? Comment below!
For more tips and tricks on how to achieve your version of financial freedom, check out:
Keep trying to crack the code,
Paul Andrews
Follow me on social media!